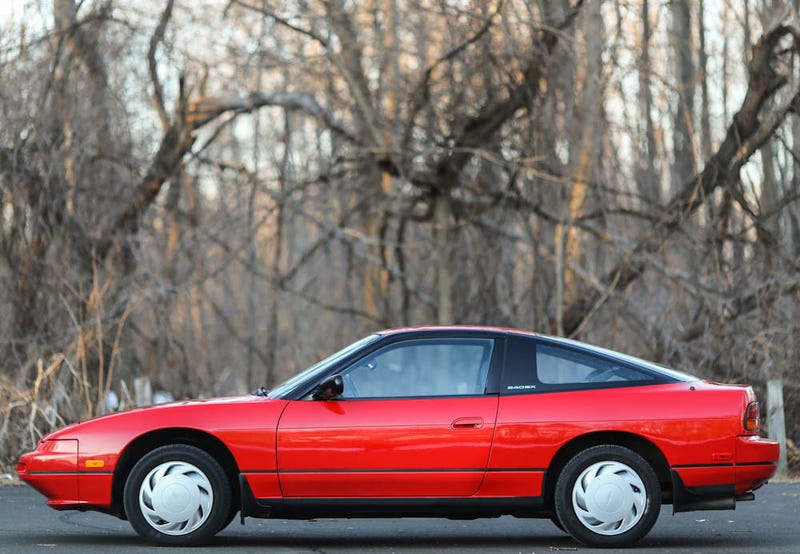 It's time to sell your trombone from high school band, and check the prices on the Star Wars figurines your roommate didn't open, because on eBay right now is one twenty-four year-old Nissan 240SX with almost 44,000 miles on the clock. It's all original, and it's clean:
No bubbling purple tint in the windows, no unpainted body kit banging between driveway ramps and the front tires, no half-baked JDM engine swaps, no Folgers-sourced muffler tip, no dashboard cracked with goblin jizz ArmorAll, and no double-din receiver-of-the-month glaring at you from the center stack. Just the chalky grey plastic of well-used window cranks and stearing-column stalks.
It's a stripper model, which means it was never burdened with the parts that wouldn't age well. The shifter was never wrapped in leather to get worn through and sloughed off into the boot, neither is there a pop-up sunroof trying to part with all of its seals and squeak at you with its latch and hinges. On the outside, there's no air dam on the front lip to get deformed from parking barriers and wind speed, and no spongy lip spoiler on the hatch with rusting mount points.
The original SOHC 2.4L "truck engine" sits under the hood, a KA24E for the Nissan literati. I'll bet there's not a single rattling crack on that exhaust heat shield! The earlier engine made less horsepower than the later twin cam models, but made the same torque at a lower RPM. Also it's sexy. Just look at the contrasting paint and matching grooves on the valve cover and intake manifold!
Yes, I know what you're thinking, the cargo cover's lift points on the hatch are still in tact! Unbelievable! The lift-over looks a little high, which would limit utility if the car wasn't just 50 inches tall. Also, the back seat folds flat for a car-camping experience like none other.
Speaking of back seats, your third and fourth occupants will probably opt for the bus, or walk, despite these immaculately preserved specimens of foam and upholstery. If you look closely at the center console, accessible only to the occupants of these toddler-sized buckets is an ash tray, for tiny used up cigarettes. Oh Japan!
I know what you're thinking (again, I know, because I read your mind), What's the catch? Why has this car been listed on eBay four times by its first (and only) owner? Was that seat-belt recall never addressed? Do people really want airbags more than they want a 2,700 pound sports car with three pedals, a truck engine, and an open differential? Here's the problem: it's listing for $9,550.00, has had at least 30 recorded offers, and the seller ain't budging. But now Jalopnik knows about it, so good luck, everybody else.